How to choose Transport Refrigeration Units?
Transport Refrigeration Units (TRU) are refrigeration systems designed to refrigerate temperature-sensitive goods that are transported in various containers, including truck, vans, semi-truck trailers, shipping containers,etc.
How to choose Transport Refrigeration Units? This guide will cover the different types of Transport Refrigeration Unit and help you to choose the most suitable solution.
For refrigerated vans, we have engine driven and battery driven van refrigeration unit for choice.
Engine Driven van refrigeration unit means that it is driven by the vehicle engine, so if the engine stops, the unit stops cooling either. Besides, a compressor and compressor bracket will be needed to install near the engine.
Battery driven van refrigeration units have DC electrical compressor built-in the condenser, so there is no need to install mechanical compressor again, just connecting alternator or battery for power source is ok.
When the engine is stopped, the dc electric refrigeration unit can continue to cool around 30 minutes (we can extend the duration by adding more batteries). If your vehicle does not have a space for additional compressor, DC Powered Electric Refrigeration Unit would be the best choice.
Battery driven van refrigeration unit is also best choice for electric vans as the mileage of electric vehicles will not be reduced.
1.1 Battery driven van refrigeration unit
Model C150TB chiller (-5℃) for compact vans.
Model V150TB Freezer(-20℃)for compact vans, and chiller for mid vans.
1.2 Engine driven van refrigeration unit
For Mini Van chiller (-5℃) C150T freezer(-20℃)V150T
For Mid Van chiller C300T/C350T freezer(-20℃) V300T/V350T.
Model
C150TB
V150TB
C150T
C300T
C350T
V150T
V300T
V350T
Temperature
-5℃
-20℃
-5℃
-5℃
-5℃
-20℃
-20℃
-20℃
Driven
Battery
Battery
Engine
Engine
Engine
Engine
Engine
Engine

Application

(m³)

-5℃
3
6-7
3
6-8
8-10
6-7
8-10
14-16
-20℃
NA
2.5-3.5
NA
NA
NA
3
6-7
8-10
If you are interested in our refrigeration units for cargo van, please contact us. info@corunclima.com
For refrigerated trucks, we have engine driven refrigeration unit,electric refrigeration unit, diesel Engine Refrigeration Unit for choice.
2.1Engine Driven refrigeration units for Pickup/Bakkie/UTE
2.1.1 Chiller (-5℃) C150F/C300F
2.1.2 Freezer(-20℃)V150F/V300F/V350F
2.2 Engine Driven refrigeration units for Truck (12-18m³) Freezer(-20℃) V450F/V550F
2.3 Electric refrigeration unit for Truck(12-18m³)
Chiller (-5℃) C450FB Freezer(-20℃)V450FB
2.4 For Truck(24-35m³) Freezer(-20℃) V650F/V750F/V850F
2.5 For Truck (35-60m³) Diesel Engine Refrigeration Unit is recommended.
Diesel Engine Truck Refrigeration Unit has its own engine, which means even the vehicle engine stops or breaks down, the unit continues cooling without being interfered.
In 2019, we have launched our 3rd generation diesel engine reefer units. Compared to old models, the 3rd generation diesel units use original Yanmar engine: Yanmar 3TNV76
3 cylinders, lower noise help you reduce the clients complain when delivery goods in early morning, lower fuel consumption help you reducing your running cost, less vibration, no damage to the insulation body.
With extremely powerful cooling power, diesel Transport Refrigeration Unit performs exceptionally in 7.6-9.6m length cargo container.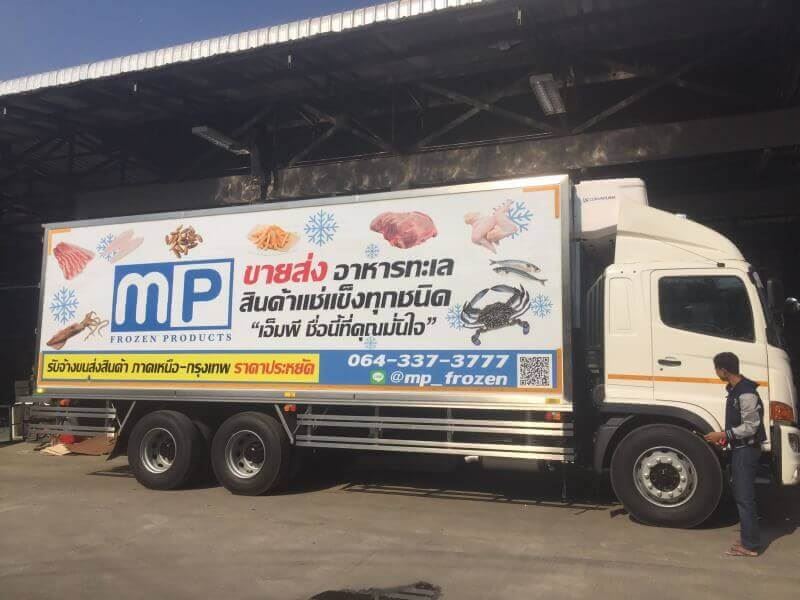 Diesel Engine Refrigeration Unit D1000 in Southeast Asia
Model

C150F

C300F

V150F

V300F

V350F

V450F

V550F

V650F

V750F
V850F
Temperature

-5℃

-5℃

-20℃

-20℃

-20℃

-20℃

-20℃

-20℃

-20℃

-20℃

Driven

Engine

Engine

Engine

Engine

Engine

Engine

Engine

Engine

Engine

Engine

Application

(m³)

-5℃

3

6-8

6-7

8-10

14-16

18

26

30

35
42
-20℃

NA

NA

3

6-7

8-10

14-16

18-20

24-26

30
35
| | | |
| --- | --- | --- |
| Model | D1000 | D1200 |
| Temperature | frozen(-20℃) | frozen(-20℃) |
| Driven | Diesel Engine | Diesel Engine |
| Application(m³) | 35-55 | 50-60 |
3.For both van refrigeration and truck refrigeration unit, electric standby system are available.
Electric Standby system is also called plug-in electric standby. It uses an external electric source enabling the refrigeration system to operate normally when the vehicle diesel engine shuts off. It works with an additional electric compressor to pump refrigerant gas through the TRU (transport refrigeration unit) when the vehicle engine is off.
Standby units are widely used on more used together with Engine Driven,Diesel Engine Refrigeration Units and electric refrigeration units, so that while the vehicle is parking and engine is off, driver can connect the standby unit with a charging pile to cool.
Corunclima has Split electric standby system and Integrated electric standby system (integrated in the condenser) for your choice.
If you are interested in our refrigeration units for trucks, please contact us. info@corunclima.com
How to choose a TRU supplier?
1.Brand reputation
Well-known brands indicate that their products have been verified by the market. It is often not wrong to choose products from well-known brands. However, products of well-known brands are often with higher price. If the budget is not high, choosing a reputable emerging brand is also a good choice.
2.Quality and Performance
Undoubtedly, the quality and performance of the product are crucial. High-quality products, even if they are a little expensive, can reduce the failure rate and will save you more.
3.After-sale service
Although you will choose good quality products, after-sales service is also essential. We offer one year warranty to our customers. We offer free spare parts if any part of the equipments under warranty needs to be replaced, after confirming the picture or video of the damaged part provided by distributor.
4.Successful cases
There are many differences in climate and vehicles conditions around the world, and different suppliers' products are not the same. If there is successful case in your local area, you will be more sure that it is suitable for you. Of course, successful cases are also witnesses of product quality and performance.
5. Local dealer,warehouse and service team will provide great convenience
Local team can make product supply, installation,after-sale service more convenient.
Corunclima have warehouses in South Africa and Mexico. We have dealer in more than 20 countries.
6. R&D and Technical Team
An excellent team is not only a guarantee of product performance, but also can provide better technical support. Corunclima R&D and Technical has 16 people, 4 of whom are in Canada. Their average experience in HVAC systems is more than ten years.
7.Certification&Honors
As different countries and regions have different certification requirements for products, please check with the supplier whether they have the certification you need. Corunclima have passed TS 16949,ISO9001,ATP,EMC Test in German,CE Test in Romania,etc.
8.Customer feedback
Please remember to pay attention to what customer say as it is more valuable.
For more customer feedback, please visit our Facebook and Linkedin Page
For more information about how to choose TRU, you can contact us. Our dedicated refrigeration professionals can and will answer any questions that have not been answered by this guide. info@corunclima.com